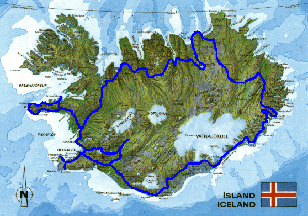 Country Overview Iceland is a large island in the North Atlantic close to the Arctic Circle.
The landscape is wild, rugged and colourful, with black lava, red sulphur, hot blue geysers, rivers, waterfalls and green valleys.
Its coastline is richly indented with bays and fjords.
More than half the population lives in or around Reykjavik, the capital.
Iceland is one of the most volcanically active countries in the world.
Hekla, in the south of Iceland, has erupted no fewer than 16 times, and was once described by clergymen as the gateway to Hell.
Reykjavik is set on a broad bay, surrounded by mountains, and is in an area of geothermal hot springs,
creating a natural central heating system and pollution-free environment. It is a busy city combining old-fashioned wooden architecture and modern buildings. Local dishes include hangikjot (smoked lamb) and Icelandic sild (herring and salmon). Nightclubs and cinemas exist in major centres. During the tourist season there is an attractive light entertainment show called Light Nights with traditional Icelandic stories and folk songs.